Investor Relations
Management Policy
Medium-Term Business Plan
Three Years from FY19 to FY21
1. Management Policy
The Net One Group has formulated its medium-term business plan, which starts in April 2019 and covers three years, from FY19 to FY21. Under its management policy of "contribute to innovation in society by utilizing ICT," the Group will pursue the following three types of growth through this medium-term business plan in order to respond to changes in the ICT market and create high added value.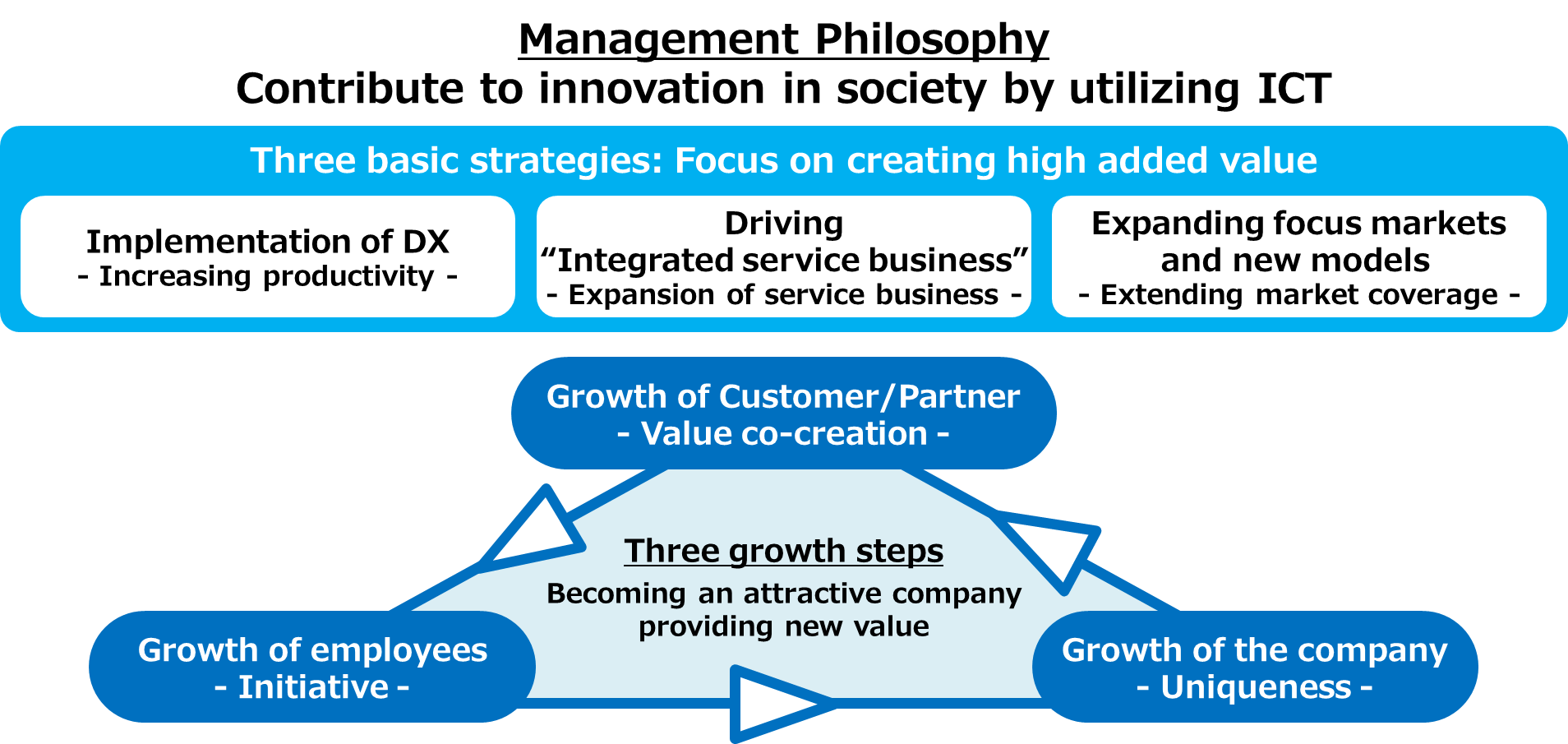 (1) Growth of customers and partners: Value co-creation
The Group recognizes the need to be a company that supports the growth of its customers and partners and earn their admiration. To this end, the Group will work to jointly create new value through its integrated service business, which assists customers in raising their productivity.
(2) Growth of the company: Uniqueness
In order to support the growth of customers and partners, the Group must also grow. To secure this growth, the Group will continue to create unique value by working toward fundamental reforms aimed at raising productivity and making extensive use of the experience gained from these reforms to make proposals concerning existing markets, as well as focus markets and new models.
(3) Growth of employees: Initiative
Each individual employee must grow for the Group to achieve overall growth. Accordingly, the Group will work to enable all employees to innovate autonomously by accumulating new knowledge regarding the utilization of ICT through a project called "Work-Style Innovation 2.0/DX" and formulating and developing training programs designed to strengthen creativity and adaptability.
2. Business Environment
The ICT market is currently entering a period of change. Cloud service companies located primarily in the USA are experiencing radical growth and ICT manufacturers are largely shifting their focus from hardware products to predominantly software products.
Customers have also come to see ICT as the central core of business transformation, and digitalization and work-style innovation are two investment goals that are becoming increasingly important.
In markets undergoing these kinds of changes, the Group has leveraged its advanced network technologies to newly create value in cloud system integration and security measures. Going forward, the Group aims to make further progress in transforming into a company that co-creates value with customers to support their growth and offers new added value.
In the enterprise and public markets, the importance of security is rising as cloud use expands. As the utilization of ICT in work-style innovation and smart factories grows, the provision of services that promote this utilization in the creation of problem-solving mechanisms, the integrated management and operation of infrastructure, and the formulation of plans aimed at further optimization is in demand.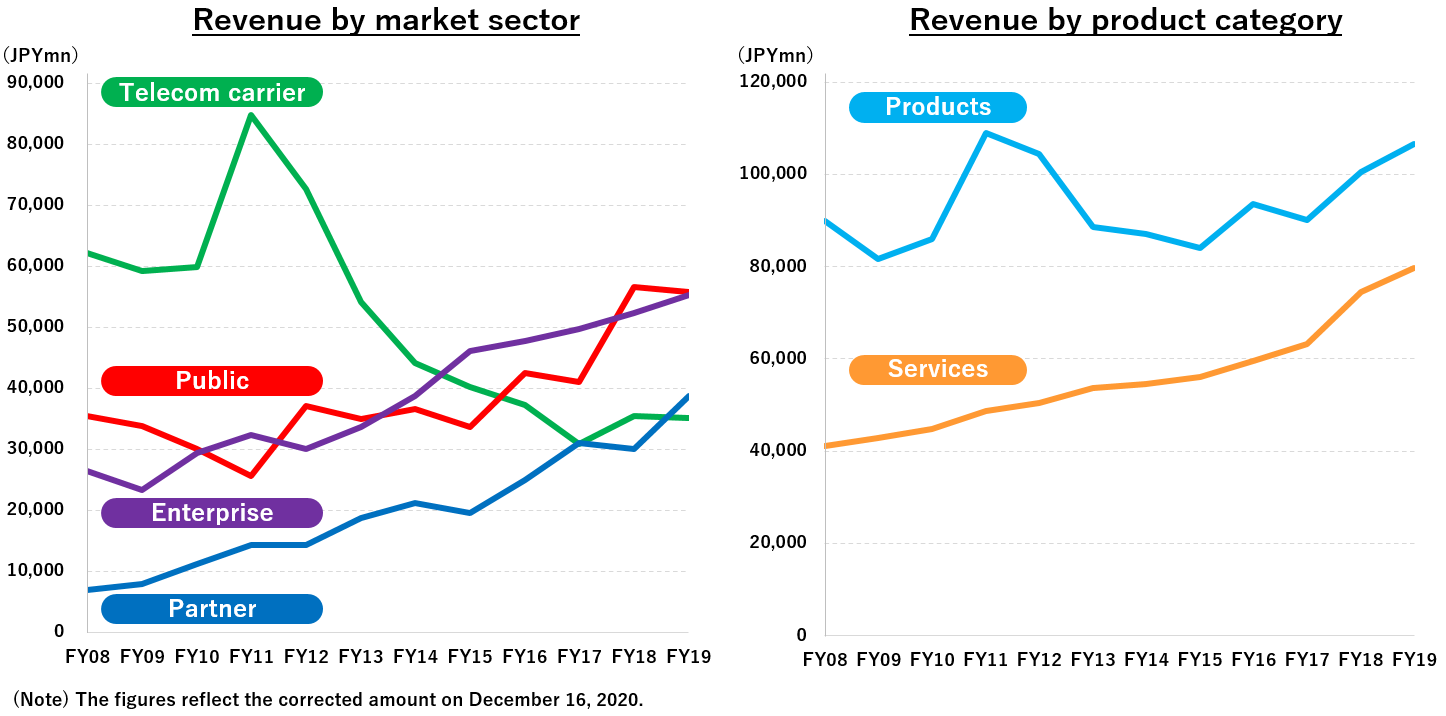 3. Basic Strategy
The Group will employ the following three fundamental strategies in order to achieve the three types of growth detailed in the medium-term business plan.
(1) Expanding focus markets and new models (extending market coverage)
The Group will pursue growth by focusing on markets and on customers in which the integrated service business exhibits strength. In existing markets, the Group will expand its business through continuous development of solutions geared toward cloud use and security enhancement. As for focus markets, the Group will strengthen its proposals for healthcare, school system, and smart factories, three markets that project progress in conversion to ICT. Additionally, the Group will implement two new models; Managed Service Provider (MSP) support that enables businesses to efficiently develop into medium- or small-sized companies and expanded refurbishment (product recycling), which increases price competitiveness and profitability.
(2) Driving "Integrated service business" (expansion of service business)
The Group defines all of its activities performed for customer benefit as its "Integrated service business" and supports the ICT lifecycle. In pursuit of creating new added value, the Group will adopt a perspective of customer success. Additionally, the Group will aim to expand its share of services by developing solutions that allow for the safe use of multiple clouds and supporting shifts from "ownership of hardware" to "use of functions" through capital services and other means.
(3) Implementation of DX (increasing productivity)
Since 2010, the Group has achieved working environments that allow employees to work anywhere and anytime through its Work-Style Innovation 1.0 project. Now, the Group will further accelerate this initiative and promote Work-Style Innovation 2.0/DX, a new project aimed at raising productivity, by integrating all operations and systems. Furthermore, the Group will aim to increase customer satisfaction by offering practical solutions through "netone on netone," which provides a reference to the experiences gained from the successes and failures involved in implementing these changes.
4. Numerical Targets
The Group will endeavor to transform into a company that produces high added value through the three fundamental strategies and by achieving the three types of growth detailed in the medium-term business plan. Along with pursuing growth in existing markets, the Group will target revenue of JPY25.0bn in the third year of the medium-term business plan through focus markets and new models and aim for further growth of revenue. In FY21, the final year of the medium-term business plan, the Group will aim to achieve revenue of JPY220.0bn, operating income of 21.0bn, an operating margin of 9.5%, a service share of 50%, and an ROE of 16.8%.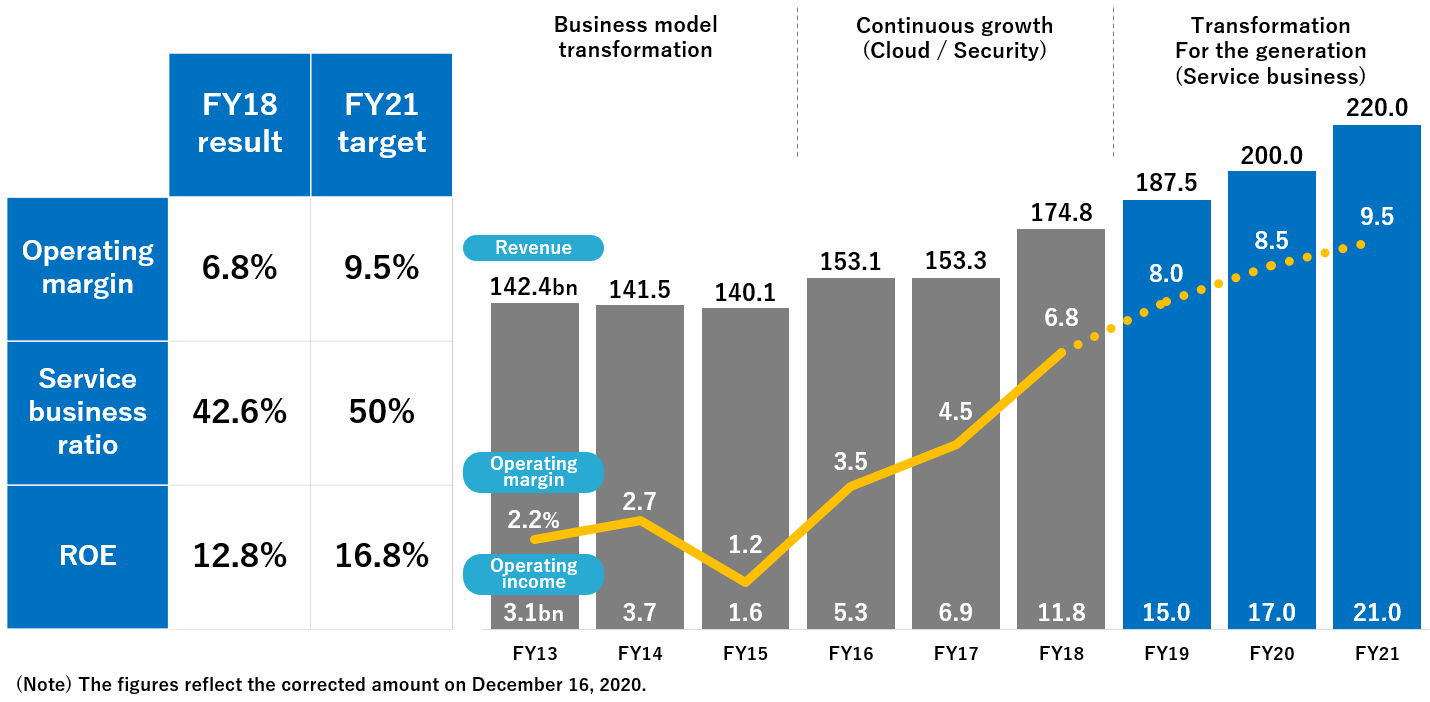 The Group endeavors to become "a company trusted and supported by all of its stakeholders" and work to raise overall corporate value by continuing to strive to create new value.
Related information