With our seasoned expertise and insight for utilizing and leveraging ICT, we will spearhead our customers' success
Our seasoned insight enables us to understand the core issues from customer perspective, and our proven expertise empowers us to deliver the best solutions to the issues with refined profession. We partner with customers across the industries to help them promote strategic information utilization using virtual ICT infrastructure to the point supportive of raising the value of their business.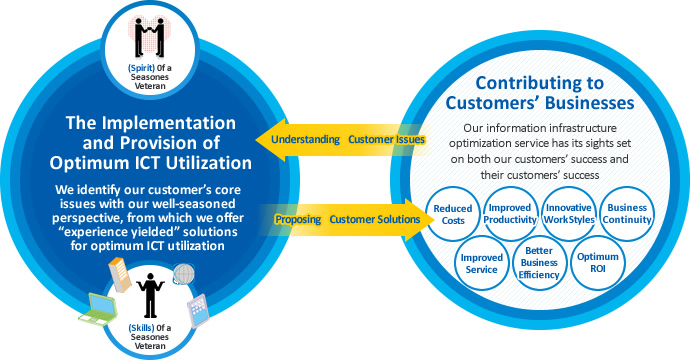 [Spirit] of "TAKUMI"(seasoned insight)
We remain committed to adaptably taking on enduring technological innovation to enhance mutual value with customers.
[Skills] of "TAKUMI"(proven expertise)
We constantly have our finger on the pulse of global trends in cutting-edge technologies, verify different combinations of such technologies, and actually deploy them in our offices, as we share with our customers and partners our knowledge base of ICT utilization.
Gateway to "optimum ICT" with Net One Systems solutions
The key elements for successful work style innovations are space, tool and system. Our solutions provide the tool, the ICT. Best-mixed cutting-edge ICT technologies afford suitable communication tools capable of being used anytime, anywhere, by anyone and for whatever purpose to obtain more productive and efficient business.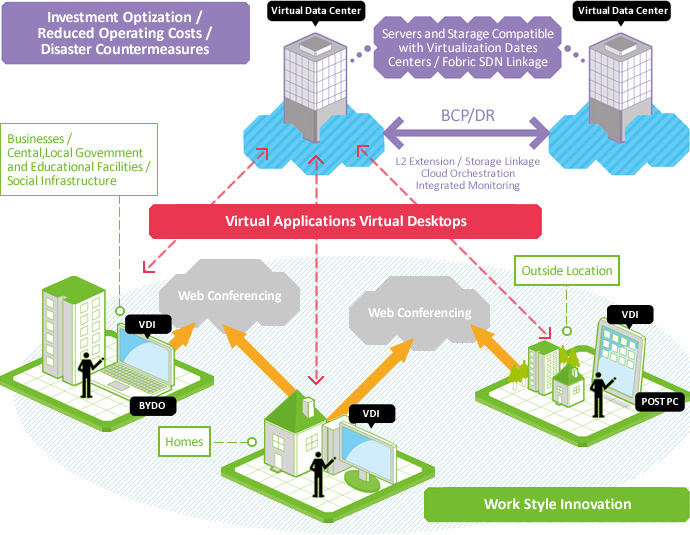 Office-bound work style gives way to a work style connecting people to people
Our accrued knowledge base of ICT utilization and services for secured ICT infrastructure development help customers overcome their challenges and devise their business continuity planning.
Work Style Innovation
Optimum Environments" with Virtual Desktop Infrastructure(VDI)
VDI realizes centralized server-based management by which to prevent information leaks and to reduce operating costs.
Enabling Ideal Work Style with the Smart Utilization of ICT
Create environments where each worker can yield high performance free from the constraints of time or location.
Virtual Applications Virtual Desktops
Building Virtual Environments
Decent and cost-effective business continuity plans can be devised.
Business Continuity and Disaster Recovery
Building and running VDI is less costly than other physical environments, and the regular maintenance for VDI can be less burdensome.
Telecommunication Networks
Over the past twenty years, we have been engaged in providing multi-vendor, high-performance and highly reliable carrier-grade network integration for Telecom operators. We have built a foundation of world's leading broadband accessibility for people,society and the future of ICT.
Large-scale Wired/Wireless Network Infrastructure
Carrier Ethernet, IP/MPLS Networks
Years of proven experience enables us to design and deliver carrier-grade nationwide network with a variety of technologies based on operators' business needs
Mobile Network Infrastructure
We provide innovative mobile EPC, Mobile backhaul solutions for LTE/LTE-A to help mobile operators handle emerging data surge
Next-generation Telecommunication Networks
Our combined expertise in virtualization technology with telecom technology enables operators to transform their business, and create more profitable services by utilizing software-defined open architectures.